In the early years the Winona Woods area was home to many small farms, orchards and wood lots which supported early settlers. As indicated by this 1902 plat map most of the land at that time was owned by three farmers, Colt, Grant and Leake.
However, as the years past trolley and rail lines were run which would drastically change the area. As these transportation links between the city and the lake became quicker and more efficient demand for housing increased. By  the early 1920's many areas along St. Paul Boulevard  were experiencing a rapid acceleration in development.  By in large the area now know as Winona Woods was divided into four subdivisions: Winona Terrace, Seneca Parkway, Montrose, and Parkside Terrace as shown in this 1924 map.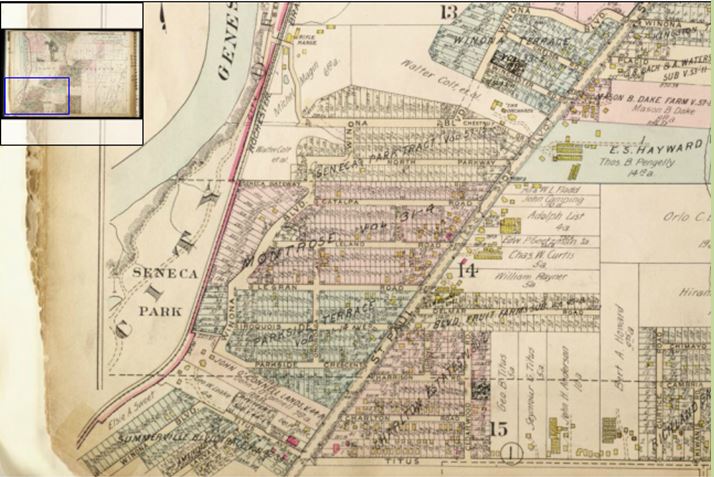 Early advertisements from the time period described future streets as "cut through a field of oats" and among "picturesque woods" to entice city residents to consider life in the suburbs.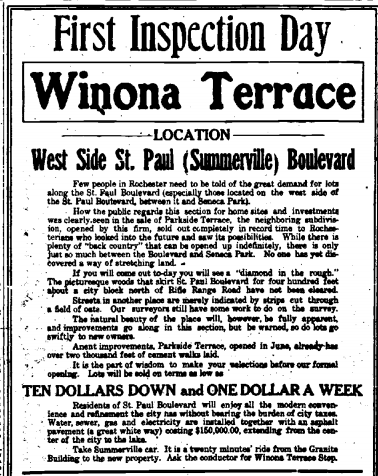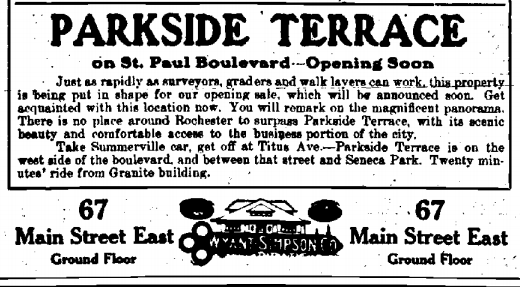 Almost as quickly as the lots could be divided homes were built until the Great Depression slowed construction nationwide. After the nation re-emerged from the challenges faced during the Second World War new families headed into Irondequoit as never before. Virtually overnight, Irondequoit blossomed into a young suburb with new schools, churches and shops to serve its burgeoning population. Change also came to the Winona Woods area with the construction of many new homes along Chapel Hill Drive and Carriage Lane.
Today, Winona Woods is stable community comprised predominantly of young families and established residents. Neighbors continue to enjoy the same proximity to the city and the lake that the earliest residents did while also taking advantage of all the amenities Irondequoit has to offer like great schools, terrific recreation and walkable neighborhoods.
Although our community has changed greatly since its inception its still easy to see the charm and character of days gone by along our streets. Homes of varied architectural styles, graceful proportions and unique characteristics keep afternoon walks interesting while neighbors continue to offer good old fashioned hospitality to friends.